6 Questions With Kenny, Featuring Laura Osnes
Written by Kenny Howard
April 27, 2017
There are few people in the industry that I have come across that are genuinely sweet, kind, and caring as Laura.  I first worked with her on Bonnie & Clyde, then produced her album Dream a Little Dream: Laura Osnes Live at the Carlyle Room, then again on Rodger's and Hammerstein's Cinderella,  I voted for her many times on You're the One that I Want before ever meeting her, and I am so happy to see her yet again about to open a new show on Broadway.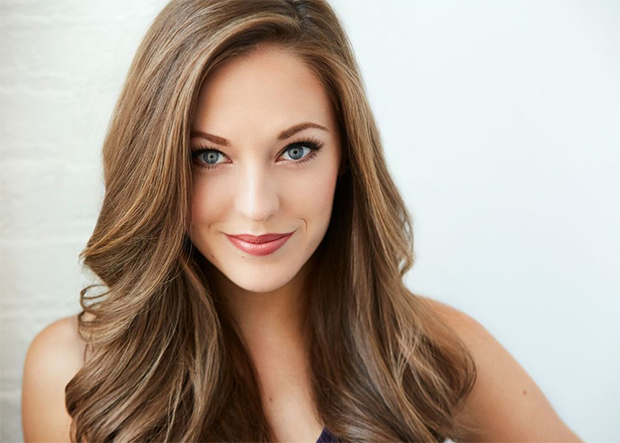 Osnes was born in Burnsville, Minnesota, and raised in Eagan, Minnesota, a suburb of Minneapolis. Her first acting performance was in the second grade, where she played a munchkin in The Wizard of Oz. She attended Eagan High School. Laura attended the University of Wisconsin–Stevens Point for one year as a Musical Theatre major, before dropping out to pursue a professional career.
In 2005–2006 she returned to Minneapolis to be a performing apprentice at the Children's Theatre Company, performing in Working, Aladdin Jr., Prom, and Pippi Longstocking. She also played the lead of Sandy in Grease at the nation's largest dinner theatre, the Chanhassen Dinner Theatres, but her run was cut short when she was chosen to compete in the nationally televised Broadway talent competition Grease: You're the One that I Want!
Osnes was engaged to Nathan Johnson (as shown in the March 18, 2007 episode of Grease: You're the One that I Want!), whom she met when both were understudies on Aladdin. They were originally planning to marry on March 24 and honeymoon in Aruba, but postponed the wedding so that she could participate in the competition. Because the schedule conflicted with March 25, 2007 episode, they rescheduled the wedding to May 11, 2007, and are now married and reside in Manhattan.
She is currently working on Bandstand, a new musical that opened on April 26th on Broadway. For the 2017 Tony Awards, Bandstand received two Tony nominations, one for Best Choreography and one for Best Orchestrations. I caught up with Osnes to pose my first person in a series of "6 Questions With…"
1). When auditioning for roles early in your career, what were some of your "go to" songs and/or monologues?
"Not For The Life of Me" (Thoroughly Modern Millie)
"Somewhere Over The Rainbow" (The Wizard of Oz)
"Till There Was You" (The Music Man)
"You've Got Possibilities" (Superman)
I've only ever had to do a monologue for college audition and I think I did something from Lost in Yonkers.
2) What is your post-show guilty pleasure?
Reese's, 16 Handles froyo, or nachos.
3) Do you have a regiment of liquids, etc. for your voice during a Broadway run?
I love Throat Coat tea, hot ginger/lemon/honey water, minimal dairy, and constantly have Ricolas or Halls cough drops, Singer's Saving Grace throat spray, Slippery Elm lozenges, and Grether's pastilles on hand.
4) What is one of the funniest moments that has happened or mishaps to you on stage?
I lost my wig onstage once in Grease. I did a dip dance move and my wig fell right off and was laying like a dead dog on stage. I swept it up and tried to put it back on while dancing. I was so embarrassed at the time, but it's hilarious now.
5) Can you tell us just a little bit about your journey in the development of your new Broadway show Bandstand?
I was asked to do a reading of this show three and a half years ago! I've been fortunate enough to continue with the project through a staged lab and "out of town" run at Paper Mill Playhouse the past couple years, and am now so honored to be telling this story on Broadway! It's been so exciting and rewarding to be a part of seeing this show and my role develop over the past few years. And getting to create/originate a role in a brand new Broadway musical…? It doesn't get any better.
6) Are there any particular items or good luck charms that you always bring to put in your dressing room?
I always have Ricolas and Halls drops, which I use religiously during any run, haha. And I love pictures… I always have a picture of my husband, my mom, and some sort of photo inspiration for the show. For Bandstand, I have a picture of my husband's grandma, who was the singer in a swing band in 1945 Cleveland… which is basically my character!
Hungry for more theatre history? Check out our other stories below!
---
Kenny Howard is currently the Artistic Director of The Abbey and Education Director for Florida Theatrical Association he created FTA's  New Musical Discovery Series to continue he commitment to developing new works, as well as conceived, co-wrote and directed shows for Norwegian Cruise Lines. He co-founded of The Broadway Consortium, LLC, which produced the Broadway Productions of Chinglish, Bonnie & Clyde, Evita, Gore Vidal's The Best Man, Big Fish, Matilda, Rodgers & Hammerstein's Cinderella, and the West End transfer of Master Class starring Tyne Daly. Under his management, TBC company received 6 Drama Desk Nominations and 5 Tony Award nominations, including a win for The Gershwin's Porgy & Bess.  He also co-founded Broadway Records which produced numerous cast and cabaret albums including How To Succeed, Matilda, and Big Fish Orginal Cast Recordings, two of which received Grammy nominations, He is a graduate of UCF and currently serves on the board of The Orlando International Fringe Festival.
Thumbnail: courtesy Laura Osnes