12 Elizabethan and Jacobean Playwrights You Should Know
Written by Ashleigh Gardner
October 31, 2016
Chances are high that you've read Shakespeare at least once, but if you're going to pursue a theatre degree, you're going to encounter works by other authors who wrote around the same time period. Familiarize yourself with these twelve Elizabethan and Jacobean playwrights with some trivia and their most popular works. (Fun Fact: Shakespeare probably died from partying way too hard with his friends Michael Drayton and Ben Jonson.)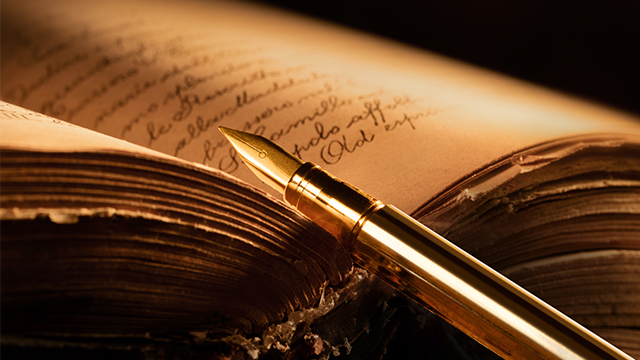 Thomas Kyd (1558 – 1594)
Trivia: He was thought to have written a version of Hamlet that pre-dates Shakespeare's own play. Scholars call Kyd's the Ur Hamlet.
Play of note: The Spanish Tragedy, featuring a play-within-a-play, letters written in blood, and revenge murder.
George Chapman (1559 – 1634)
Trivia: Chapman was scammed by a man who promised him a loan. He never received the money and was arrested for debt.
Play of note: The Blind Beggar of Alexandria, featuring a con artist who disguises himself and impregnates two sisters before becoming the king of Egypt.
Christopher Marlowe (1564 – 1593)
Trivia: In 2016, it was put forth by Shakespeare researchers that Marlowe helped Shakespeare write Henry VI, parts I, II, and III.
Play of note: Doctor Faustus, featuring a scholar who makes a deal with the devil, and then is carried off by demons at the end of the play.
William Shakespeare (1564 – 1616)
Trivia: After a night of drinking with his friends, Michael Drayton and Ben Jonson, Shakespeare was feverish the next morning and died shortly thereafter
Play of note: Hamlet, featuring incest, insanity, accidental murder, on-purpose murder, notable quotes, and a bewildered troupe of actors.
Ben Jonson (1572 – 1637)
Trivia: Jonson was one of Shakespeare's most used actors on the stage. However, according to writer John Aubrey, Jonson was not a successful actor.
Play of note: Volpone, featuring greedy and jealous Italian noblemen, disguises, and trickery.
Thomas Dekker (1572 – 1632)
Trivia: Thomas Dekker owed money to John Webster (his son, also named John, is a playwright on this list). When Dekker could not pay the 40 pounds he owed, he was thrown in prison for seven years. When Dekker got out of jail, he started writing plays with John Webster (the younger).
Play of note: The Witch of Edmonton, featuring an actor who plays a dog and a woman who, wrongly accused of witchcraft, must turn to it in order to survive.
John Fletcher (1579 – 1625)
Trivia: His play The Woman's Prize, or The Tamer Tamed is a sequel to Shakespeare's Taming of the Shrew.
Play of note: The Woman's Prize, or The Tamer Tamed, featuring a strong, intelligent female lead, denial of sex (much like in Lysistrata), and marital discord.
Thomas Middleton (1580 – 1627)
Trivia: His satirical play, A Game of Chess, was cancelled for upsetting the Spanish ambassador. Middleton never wrote for the stage again.
Play of note: The Changeling, featuring a woman who, in order to get out of a marriage, has a suitor kill her fiance.
John Webster (1580 – 1634)
Trivia: In 1606, Webster wrote a Christmas play in collaboration with Thomas Dekker called Christmas Comes but Once a Year.
Play of note: The Duchess of Malfi, featuring a two crazed brothers who may or may not be attracted to their sister…so they have her murdered after she marries another man and has his child.
Philip Massinger (1583 – 1640)
Trivia: Philip Massinger is buried in the same tomb as John Fletcher in what is now Southwark Cathedral near London Bridge (near the south bank of the Thames River).
Play of note: The Parliament of Love, featuring a desperate lover who tries to kill his best friend, the mistaken identity of a servant girl, and a heap of embarrassment for the man who sleeps with her.
Francis Beaumont (1584 – 1616)
Trivia: Beaumont and Fletcher's play Philaster was a monumental success at the Globe Theatre and at Blackfriars. It sparked a taste for tragicomedy between the two playwrights.
Play of note: The Knight of the Burning Pestle, featuring a bumbling knight errant, interrupting "audience" members, and copious amounts of sexual innuendo.
John Ford (1586 – 1639)
Trivia: Ford had a strong interest in abnormal psychology and melancholia, a trait that is often seen in his dramatic works.
Play of note: 'Tis Pity She's a Whore, featuring a brother-sister relationship, poisoned swords, accidental murder, and a heart on the end of a dagger.
Like this article? You might enjoy these, too!
---
Ashleigh Gardner received her AA in Theatre/Drama/Dramatic Arts from Valencia College and her Bachelors Degree in English Literature and Masters Degree in Literary, Cultural, and Textual Studies from the University of Central Florida. She is a playwrigh and an actor.