Diva Alert #5: Nanette Fabray
Written by Jackson Upperco
November 30, 2016
Welcome back to Diva Alert, Performer Stuff's series on Great Dames from the Golden Age of Broadway. In these posts, we're taking a look at some of the American Musical Theatre's most legendary ladies, along with their seminal stage triumphs.
One of the most in demand divas of the late '40s, she counted Ethel Merman and Mary Martin as her contemporaries – and even beat them to a Tony, winning in 1948 (as the second recipient in the category of Lead Actress in a Musical). She then parlayed Broadway success into television triumph as a lauded comedienne and frequent guest star on many of the country's favorite programs. Her influence on other performers – like Mary Tyler Moore and Bea Arthur – was immeasurable. She is the big-time. She is Nanette Fabray.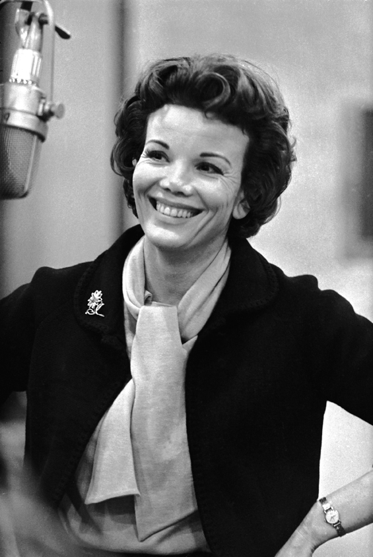 Nanette Fabray did the opposite of what most Broadway divas did: she started in L.A. and then moved to New York. A vaudevillian at a young age, Fabray was a native Californian with a few screen credits (including a small role alongside Bette Davis in 1939's The Private Lives of Elizabeth and Essex) when, as an ensemble member, she followed a West Coast musical revue to Broadway in 1940. While studying opera at Julliard, she landed her first featured role in Cole Porter's hit musical comedy Let's Face It! (1941).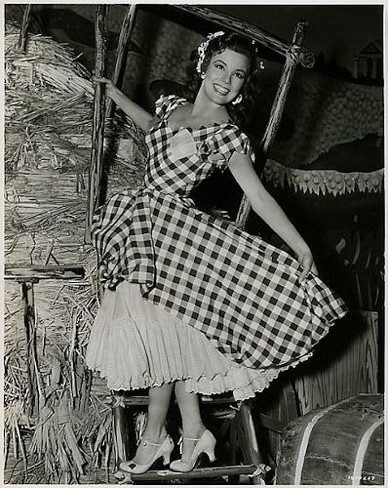 Over the next ten years, Fabray opened in six original musicals – including High Button Shoes (1947) and the show that would win her a Tony, Love Life (1948) – and replaced the leading ladies in two others, even earning better reviews than her predecessors! In 1953, she starred alongside Fred Astaire in MGM's indelible hit, The Band Wagon, and from there, moved to television, where she won two Emmy Awards as the leading lady in Sid Caesar's classic comedy-variety series, Caesar's Hour.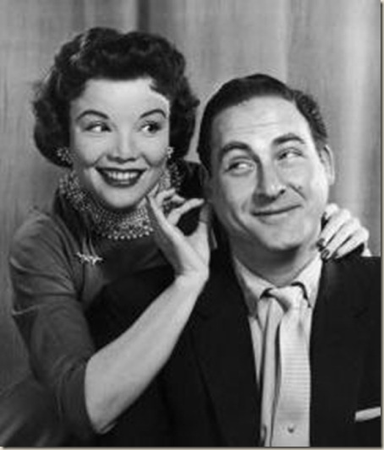 In the decades since, Fabray continued to perform theatre around the country – and even returned twice more to Broadway – while finding most of her success in television, where she guest starred on a long list of esteemed programs that included The Mary Tyler Moore Show, Maude, Coach, and One Day At A Time, the last of which counted her as a regular. Although now in retirement, Fabray currently resides in California and loves to reminisce about her brilliant one-of-a-kind career.
Fabray Roles You Should Know
Sara Longstreet in High Button Shoes (1947) [Broadway]
One of the longest running musicals of the decade, Fabray shone in this period piece (set in 1913) about a family swindled by a pair of conmen. From the cast recording, here's Fabray and her stage husband Jack McCauley with the quaint "I Still Get Jealous."
Susan Cooper in Love Life (1948) [Broadway]
Fabray won a Tony Award for her work in this ambitious concept musical about American marriage in the face of nearly two centuries worth of changing social mores. Here's a rare video of her performing the dynamic 11 o'clock spot, "Mr. Right."
Lily Marton in The Band Wagon (1953) [Film]
In this classic Hollywood musical, Fabray played the feminine half of a writing team (modeled off of Comden and Green) alongside Oscar Levant. Here are they are with Fred Astaire and Jack Buchanan putting over the immortal showbiz anthem "That's Entertainment!" (Check out PerformerStuff's feature on the film here.)
Caesar's Hour (1954-56) [Television]
For two years, Fabray played second banana to funny man Sid Caesar on this legendary variety series that gave her the opportunity to show off both her comedic and musical talents – evidenced in the clip here. (She won two Emmys while on the show.)
Mr. President (1962) [Broadway]
In her final appearance in a musical on the Broadway stage, Fabray played the FLOTUS in Irving Berlin's last original stage score. A modest hit in the Camelot era, the cast album offered listeners the chance to hear Fabray sing songs like "The First Lady."
Hungry for more theatre history? Check out our other stories below!
---
Jackson Upperco is a lover of retro television, forgotten Broadway musicals, and Pre-Code Hollywood. He boasts a Bachelors Degree in Film and Television from Boston University. You can keep up with all of his entertainment interests at jacksonupperco.com.
Thumbnail: Public Domain.