Looking for books for your theatre classroom that are guaranteed to make a positive impact on your instruction skills? Look no further than this list of amazing theatre teacher textbooks suitable for middle school and high school theatre classes.
The Monologue Audition Teacher's Manual; A Practical Guide for Actors by Karen Kohlhaas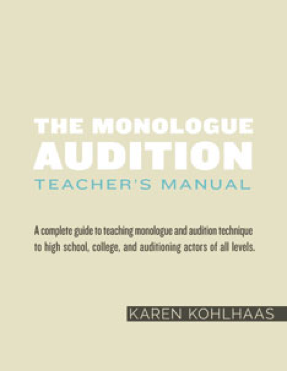 Why it's helpful: According to Karen Kohlhass, it is the only book on monologue preparation that shows you not only how to ACT monologues specifically and truthfully without a partner, but also how to DIRECT and AUDITION with monologues, so you can build a complete and enjoyable audition.
"I read The Monologue Audition: A Practical Guide for Actors and it was a revelation to me. It helped me enormously in coaching my students for college auditions, not to mention how it inspired me as a teacher. Thank you for your insight and generosity."
—Robert Laconi, Director, Theatre Arts Center, New York
Get the book here.
---
Tiffany Weagly-Wilkie is the Director of Theatricals for PerformerStuff.com. She also serves as the Casting Director for The Imagination House.