Returning to the Rehearsal Room
Written by Amanda Grace
May 9th, 2021
It's official: UK drama students are back in school. Rushing between voice, movement, and acting classes, it's almost as if nothing's changed—almost.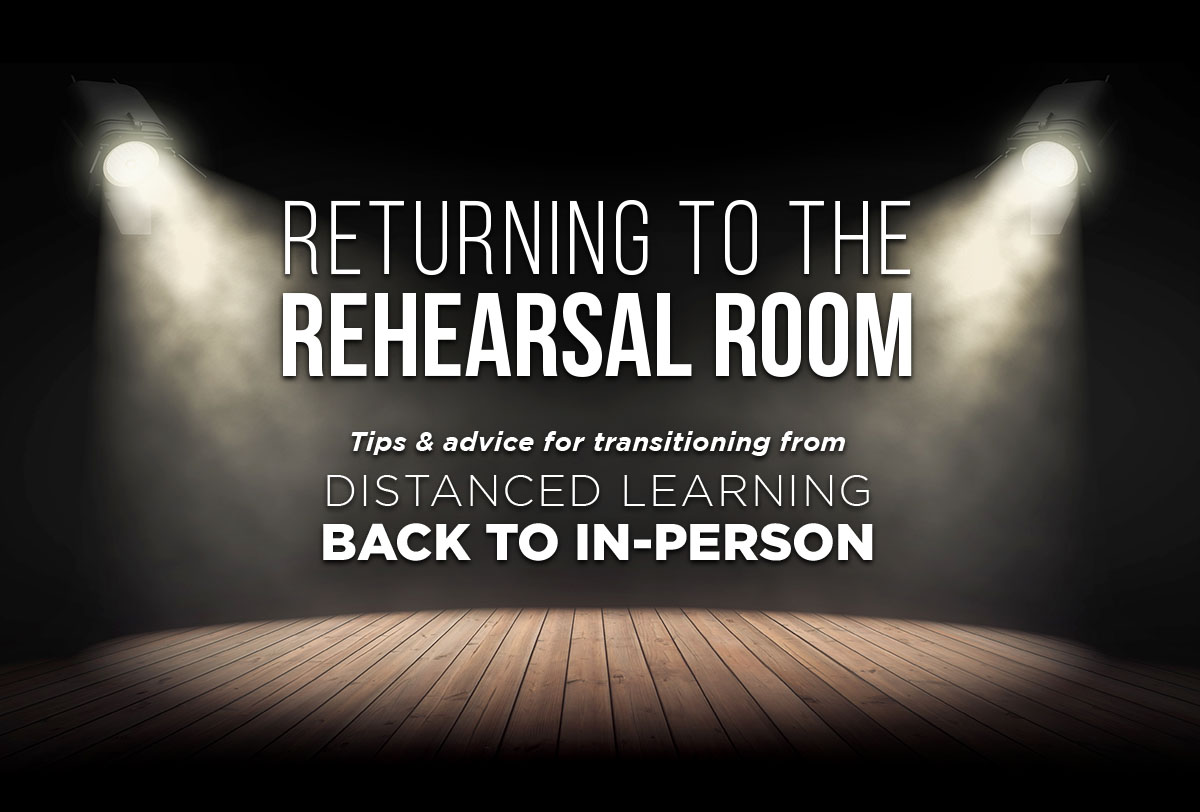 Training looks a lot different than we anticipated. No sooner had my cohort seen each other face-to-face for the first time than we were whisked away to the first of many (many) bi-weekly rapid tests. To get through thirteen of us, plus faculty, takes around two hours the first go.
When we make it to our studio, old norms clash with new protocols. We take our temperatures before taking our shoes off to step onto the marley dance floor. The floor is its own signpost that things are different now: the sunlit hall is taped off into two-metre squares. Rules released by the government say what happens in our square can be done without a mask, but any interaction with each other should be conducted with face coverings, without touching.
It's no one's dream introduction to an acting master's, but it's keeping us and others safe… besides which, we're grateful to comply, just to share space with one another at last.
The work is difficult. I find I'm not as vulnerable as I used to be; it's as if I were to feel something fully, I'd have to address all the feelings I've glazed over in order to get here. My acting suffers. It is what it is.
Establishing a routine again is difficult. Morning warm-ups and consistent fitness plans seem to be things Old Me did. Part of the challenge is believing in-person work is once again a permanent fixture—that we won't be sent back home. We each take it one day at a time. I'm a different person coming out of lockdown than I was going in; I don't know how to gauge my progression as an artist anymore, except day-to-day.
Day-to-day, we are getting better.
I've found new things to be grateful for. Voice class is helping me cope with bouts of breathlessness I've had since my encounter with the pandemic last March; choral work is reminding me how the meeting of voices can heal unspeakable hurts. The art is more important than ever, and we are all encountering it raw and humble, which makes us available to the work sans pretense. I have never been more aware of what I don't know… and I have never been more engaged with my own growth.
At the same time, I find I have outgrown impatience. Our industry has long lauded working to the bone as the bare minimum—but my colleagues who entered lockdown with no mental, physical, or emotional reserves have not made it out with the energy to continue doing the work. Those of us who once resisted taking time and space to refill our vessels are now reckoning with what poverty of spirit looks like in the creative process (spoiler: it looks like the complete absence of creation). I need more rest now. I need more understanding for the things I struggle with, old and new.
If I was honest, I probably needed those things long before this moment.
None of this is to say this was what we needed for an awakening or this crisis has to serve a purpose; it's just that training in a half-out-of-lockdown-world forces you to reckon with an awful lot of emotional, spiritual, messy shit. We're all having to decide what serves and what doesn't, because we all are out of our comfort zones and out of the reserves we'd otherwise use to rest on our laurels.
This is all very messy, but it's a step forward for our entire industry to be in a studio, looking someone in the eye, telling a story. It's one step closer to theatres reopening; one step closer to being back face-to-face, properly.
That's the encouraging bit. The next bit is where I'd usually give advice… but I'm still working this normal out. My best bits of wisdom for those of you who are in the same boat as I:
Have a different face covering for every day of the week; keep an extra in your bag if you're doing hard physical activities, so you don't work in a wet mask. (Wet masks are ineffective. They're also gross.)
Spread the necessary bits of your new routine out; this makes it feel more manageable. I spread my hour-long warm-up around making breakfast and getting dressed, so I'm not overwhelmed by the prospect of picking it back up all at once.
Wherever you would normally carry a water bottle, bring sanitizer, too. Having one handy keeps you from running to your studio's home base every time you do an exercise.
Figure out what you can leave at school and what has to come home, since what comes home with you should be cleaned after being in a shared space. My flatmate and I have found it's been more practical to have a studio mat for movement and a home mat for yoga than it is to antibac-wipe our mats every day.
Find what makes it fun. Hold onto that.
Every artist—every person—has worked to make it through this pandemic with some sense of self intact, and for the first time, some of us are witness to a light at the end of the tunnel. If you're headed back to the studio, cherish it: you worked hard to be there. If you're waiting for the next step, hold on: it's coming.
Stay safe. Stay sane. See you soon.
x
Need some advice? We've got you covered.
---
Amanda Grace is an actor, writer, composer, improvisor and director whose work has graced stages from  Central Florida to the Edinburgh Festival Fringe. She is based in London, where she is studying to obtain her M.F.A. in Actor & Performer Training at Rose Bruford College. Amanda holds an honours B.A. in Theatre Studies and a B.A. in Psychology, as well as a certificate in Shakespearean Performance from the Royal Academy of Dramatic Art. Her original albums can be streamed at amandagrace.bandcamp.com.