An Insider's Look at the 71st Annual Tony Awards
Written by Alexandra Muscaro
July 11, 2017
As a theatre major in New York City, I've been fortunate enough to meet and work with some of Broadway's biggest names. From being in the recording studio while Cynthia Erivo recorded "I Am Here" to sharing a couch with Lin Manuel Miranda, I've had my fare share of star studded moments. Believe me, I have enough stories to last a lifetime. The first hand lessons and experiences I've been able to partake in have been priceless to me, and the Broadway community is one of the most welcoming communities a person could ever hope to find. And what better way to celebrate such a community than by attending the Tony Awards?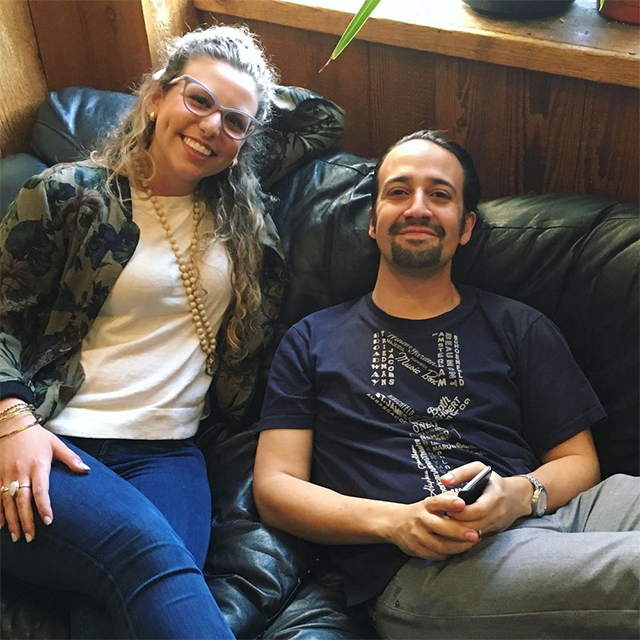 The Antoinette Perry Awards, first founded in 1947, were created with the intention to celebrate the outstanding achievements of the past theatre year. Just like any award show, there is an immense feeling of excellence in the room. The Tony Awards is a remarkable night where all across the world people are celebrating the success and beauty of the theatre created throughout the season. It was a joy being in the room where it happens. Despite being only an audience member, I had the pleasure of taking a small part in contributing to the tone of the Tony's (yes the pun is absolutely intended).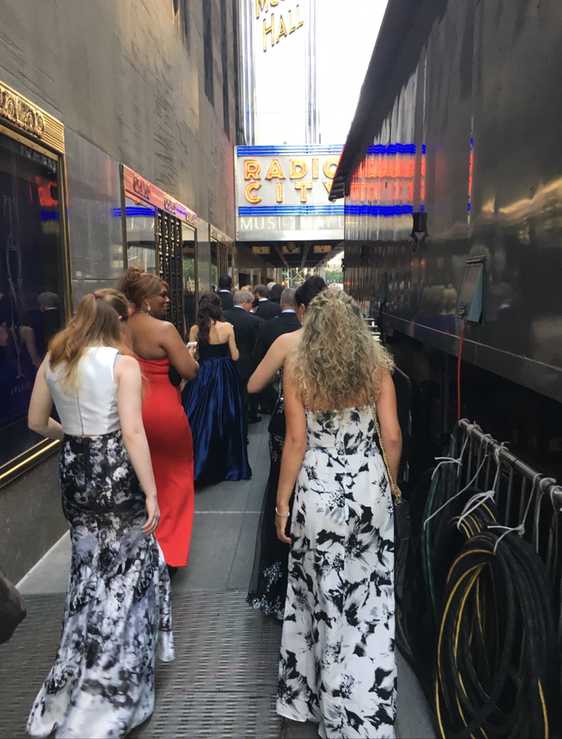 Before walking into Radio City Music Hall, we were all greeted by some lovely signs notifying us all that by stepping foot into the theatre we are giving our consent to be filmed, photographed, and recorded. Once everyone was seated, we were all given the ground rules for the night. The audience had to remain quite and seated during the live segments of the evening. Of course we were also constantly instructed to applaud when going back live. They also explained that each winner had 90 seconds to give his or her speech until the orchestra would start playing as the cue to finish and move on.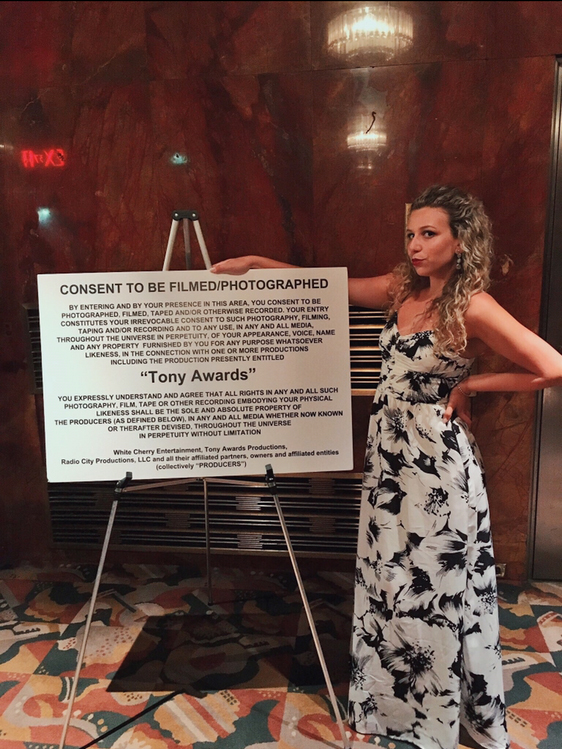 You could absolutely feel the excitement in the air! Radio City Music Hall is by far the best venue for this event. There isn't a bad seat in the house, and even though I was seated in the upper balcony, I had the perfect view of all the nominees as well as the live performances.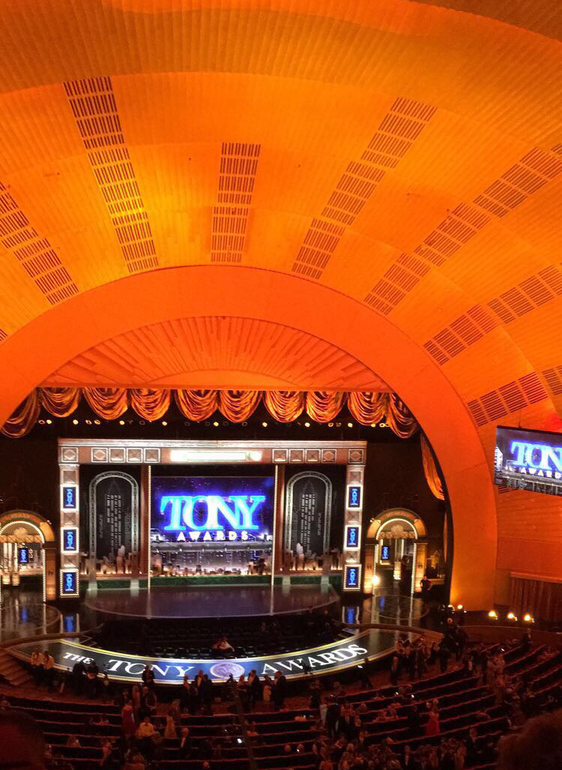 Now what are the Tony's without a host to lighten the mood and keep the audience excited? After a ridiculously large number of denied requests, the Tony's finally found its knight in shinning armor, or should I say — its president, Kevin Spacey. Since I had also attended the 70th Tony Awards hosted by James Corden, I forced myself to keep an open mind. (I mean who can really compete with the Car Pool Karaoke King, right?) I think I speak on behalf of many Tony fans when I say how pleasantly surprised I was! Sure, Spacey can't do a double pirouette into a cooter slam, but really how many of us can? And what made Spacey's performance so impressive was that he never tried to be Neil Patrick Harris or James Corden. He harnessed his strengths, used them to his advantage, and created a show that was completely unique. And that my friends, is what we call a showbiz professional!
Now if you watched the show live on your TV, I'm about to blow your mind. During the commercial breaks…the Tony's…keep going! There is an entire award show still going on during the commercial breaks, which is heartbreaking for someone like me who is in the audience listening to an absolutely beautiful acceptance speech by the winner for Best Costume Design in a Musical knowing that designers around the world are only going to see a ten second cameo before the network goes back live. Also, other Tony's are awarded even before the show begins! And while these awards all have the same 90 second rule (DID YOU HEAR THAT BETTE IT WAS A 90 SECOND RULE YOU KNEW THIS) and instrumental fade out, the audience is not as engaged as they are when live. Because these awards are given during the commercial breaks or before the show begins, many people are making a mad dash to the bathroom or nose deep into their phones. I truly think the theatre community deserves better, but logistically I understand. If all the awards were presented live, the Tony's would be an hour longer and would cost even more.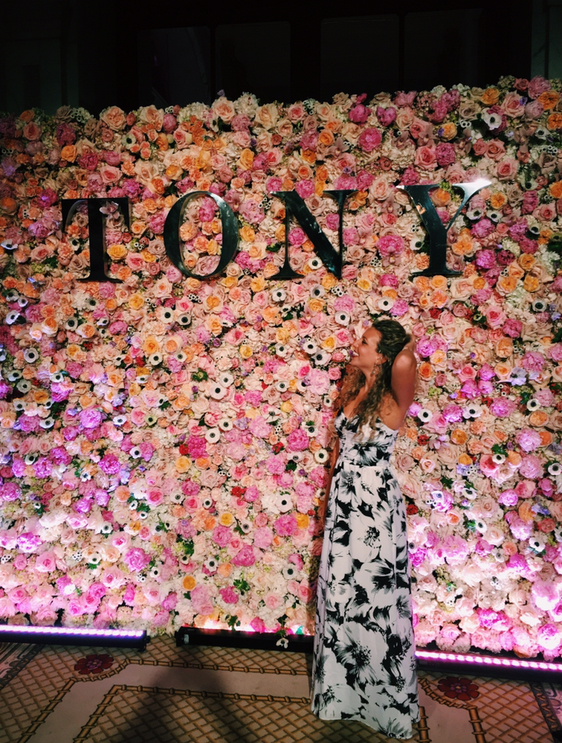 Now on to the winners. I felt that this Broadway season was the strongest season New York has seen in a long time. Each show was beautiful and impactful, and while they each offered the audience something different, the shows collectively proved to the world that Broadway is a relevant art form that has been here and will be here for years to come. Do I wish Great Comet received a little more credit than it did? Absolutely. But I think Dear Evan Hansen rightfully won in its categories. Side note: we all saw Rachel Bay Jones' dress right? Because that deserved a Tony all on its own. Hearing the speeches live touched my heart. The theatre is a tough path to follow, but hearing these beautiful words and seeing the dreams of so many come true really helped to put my dreams into perspective.
As soon as the Tony's are over it is officially party time! Shuttle busses are lined up outside the exits ready to take the guests over to the Tony Gala, the ultimate after party at the Plaza Hotel. Roses covered almost every square inch of the space that wasn't already filled with food. As soon as I walked in, I exchanged a polite smile and nod with Kevin Spacey. There was a huge dance floor where you could dance the night away with the nominees and other Tony winners. At one point, Cynthia Erivo stole the microphone and sang a song with the band. The entire room erupted in applause! There were three buffet tables on the first floor serving filet mignon and other delicious meats. The ground level of the Plaza Hotel is normally a food court, but for the Gala every stand was giving away free portions of their best sellers. Truffles, and cupcakes, and doughnuts oh my! Meanwhile you're making small talk with celebrities who are also eating the same flavor cake pop as you.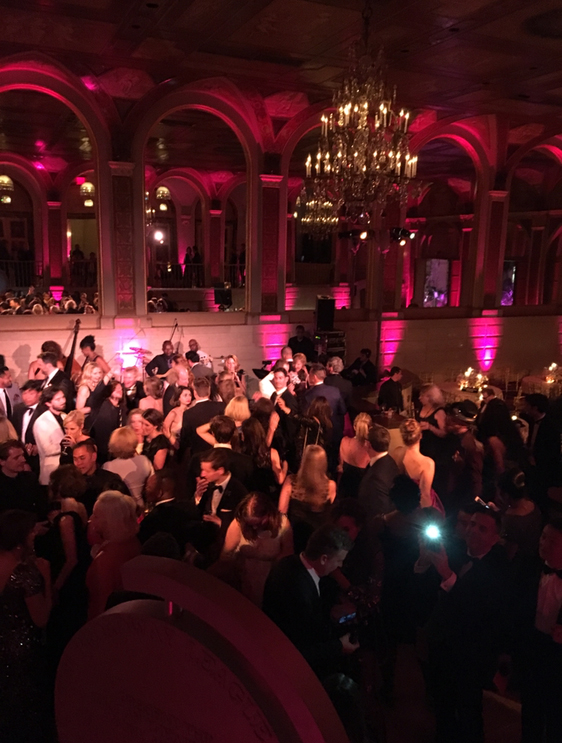 All in all, the Tony's are a surreal experience. I'm very fortunate in that I have a mentor who is devoted to helping me succeed and who constantly gives me new knowledge about this wonderful community. Stephanie Rosenberg is the CEO and founder of The Empress Productions. The two of us went to the awards together along with a few other close friends and associates. Stephanie is currently a co-producer on Anastasia the Musical and is a Grammy Award winning executive producer on The Color Purple new Broadway cast recording, just to name a few of her credits. Stephanie and I went to the 70th Tony Awards together as well, and at the time I was an intern with Broadway Records, a record label that produces Broadway cast albums. The first album I worked on with the company was The Color Purple new Broadway cast recording, that would eventually lead me to LA where I would go on stage to help The Color Purple team accept the Grammy Award for best Musical Theatre Album. My advice for any other college theatre students is to start meeting people in the industry now! Whether it is an internship or a mentorship, developing relationships in this community is essential to beginning your career.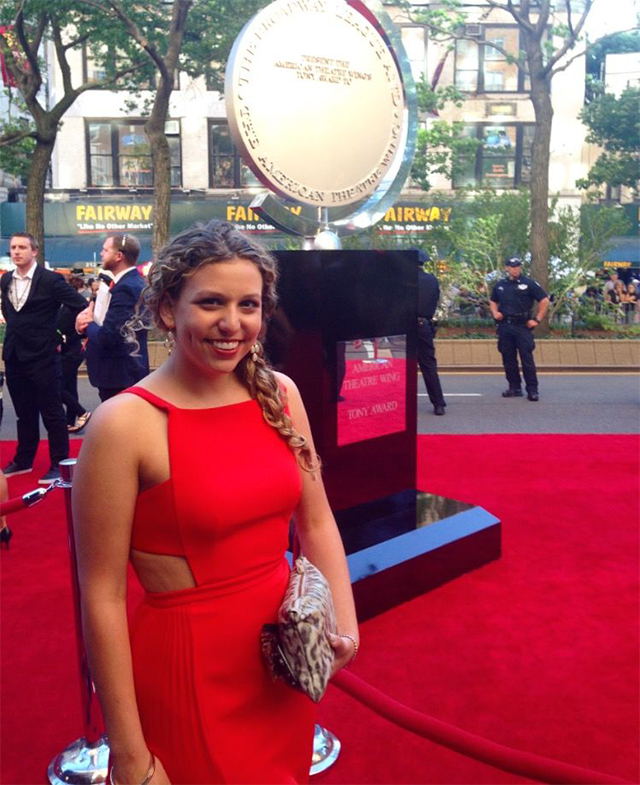 Love the Tonys? Check out our other stories below!
---
Alexandra Muscaro is from Tampa, Florida, and moved to New York to follow her dreams. She is currently pursuing a Bachelor of Arts degree in Theatre Arts with a dual concentration in Performance as well as Theatre History and Performance Texts with a Minor in Musical Theatre at Marymount Manhattan College. When she's not rehearsing, dramaturging a developing play, or studying for theatre history, you will find her at the Metropolitan Museum of Art…specifically the Egyptian exhibit. Or check your local coffee shop and you may find her with her nose in a book. You can visit her website at alexandramuscaro.com.
Photos courtesy of Alexandra Muscaro.