The Truly Turbulent Thirties: 22 Male Solo Ideas From The Great Depression
Written by Jackson Upperco
July 10, 2017
Looking for an opposite-sex duet from Broadway's Golden Age – the years in between Oklahoma! (1943) and Hair (1967) – that HASN'T been overdone? Well, don't worry: there's no "People Will Say We're In Love" or "Anything You Can Do" here. These 25 character-laden numbers below are sure to leave a more lasting impression on your audience – and allow you some fun in the process!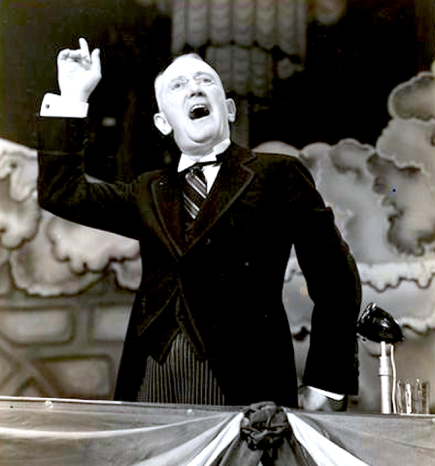 All the selections below, chosen by a self-proclaimed expert on the scores of this era, are guaranteed to put you in the mind and flavor – the real mind and flavor – of this iconic decade. With classic entries in the Great American Songbook to bluesy (seldom sung) gems waiting to be rediscovered, this EXCLUSIVE list is one to be bookmarked and studied!
1. "On The Sunny Side Of The Street" from Lew Leslie's International Revue (1930)
Included in a bouncy Lew Leslie revue, this song by Jimmy McHugh and Dorothy Fields seems like a standard "the Depression is here, but we'll keep smiling" ditty. But, while the market crashed in the fall of '29, the financial collapse and its effects were not yet at their most devastating when this production opened in February of 1930. Rather, this song more embodies lingering '20s sentiments – before the harsh realities of the new decade would make themselves known.
Get the sheet music here.
2. "Starting At The Bottom" from Fine And Dandy (1930)
Now, this little-known tune is more Depression-centered, coming from a well-received musical that boasts the first truly lauded score by a woman, Kay Swift, whose husband served as her lyricist. Although a vehicle for a star comic, the show offered plenty of melodic delights – including this forgotten solo for the male half of the secondary couple, whose optimism about making his way in the world – with his girl beside him – is indicative of the era's musical distractions.
3. "Treat Me Rough" from Girl Crazy (1930)
From the iconic Gershwin musical that starred Ginger Rogers and offered the Broadway debut of a legendary secretary-turned-belter named Ethel Merman (and itself served as the basis of the 1992 jukebox musical Crazy For You), this number for Merman's lascivious beau is filled with rambunctious charm, as he flirtatiously begs some saucy senoritas to treat him "rough" – and that means everything that you think it means. Lots of character in this one.
Get the sheet music here.
4. "Here's A Kiss For Cinderella" from Of Thee I Sing (1931)
Of Thee I Sing, which boasted a score by the Gershwin brothers, became the first musical to win the Pulitzer Prize for drama. A satire about a presidential campaign, the show's mocking (albeit farcical) look at American politics holds more than simple curiosity value in today's climate. In this number, the candidate, who has run on a platform of "love," has won the election, chosen a bride, and is using his inaugural address/ vows to say goodbye to his exes.
5. "Manhattan Madness" from Face The Music (1932)
Another political satire, this musical comedy about a crooked cop who backs a new musical featured a book by Moss Hart and a score by Irving Berlin, a quintessentially American composer whose sound changed with the times. This scintillating number aimed to capture the hectic, frenzied, intoxicating sounds and movements of modern day (1932's modern day, that is) New York City. Jazzy and Gershwin-esque, this is what comes to mind when I think of NYC in the '30s.
Get the sheet music here.
6. "The Song Is You" from Music In The Air (1932)
With a score by Jerome Kern and Oscar Hammerstein II (who brought the world the dramatically groundbreaking Show Boat in 1927), this piece is somewhere between musical and operetta, and like several of Kern's prior works, attempted to reconcile these different musical styles alongside one another. "The Song Is You" emerged as a standard – a classic song of love in this musically liminal mode. It's tunefully pleasing and plainly worded – best for vocalists specifically.
Get the sheet music here.
7. "Night And Day" from Gay Divorce (1932)
Introduced by comedian Bob Hope as a bandleader in the 1933 Jerome Kern-Otto Harbach musical Roberta (about an American football player who inherits his aunt's Parisian dress shop), this song is, simply, fun. For a musician who can relate to the notion that he's "simply got to sing – in two or three-fourths time always [he's] entertaining," then this ditty is ideal. It wasn't included in the film and was originally written for, but cut from, The Cat And The Fiddle (1931).
Get the sheet music here.
8. "Don't Ask Me Not To Sing" from Roberta (1933)
Introduced by comedian Bob Hope as a bandleader in the 1933 Jerome Kern-Otto Harbach musical Roberta (about an American football player who inherits his aunt's Parisian dress shop), this song is, simply, fun. For a musician who can relate to the notion that he's "simply got to sing – in two or three-fourths time always [he's] entertaining," then this ditty is ideal. It wasn't included in the film and was originally written for, but cut from, The Cat And The Fiddle (1931).
9. "I'm Not Myself" from Life Begins At 8:40 (1934)
Ira Gershwin took leave of his brother and paired up with lyricist E.Y. Harburg and composer Harold Arlen (the duo behind MGM's The Wizard Of Oz) to craft the score for this non-Ziegfeld, but Ziegeldian, revue that starred (among others) Bert Lahr, Luella Gear, Ray Bolger, and Frances Williams. This manic number about love's effects on a man, for dancin' fool Ray Bolger (best known as the Scarecrow), is a goodie – loaded with syncopated, and goofy charm.
10. "If There Is Someone Lovelier Than You" from Revenge With Music (1934)
Composer Arthur Schwartz and lyricist Howard Dietz are an unjustly forgotten duo, crafting several solid and gem-filled scores – like Revenge With Music, a romantic drama about a Spanish governor who tries to steal away a bride on her wedding night and in retaliation for a perceived dalliance, finds his wife seduced by the bridegroom. This achingly romantic song by the groom to his future bride (early in the show), is a classically neglected '30s ballad. Swoon!
11. "There's A Boat Dat's Leavin' Soon For New York" from Porgy And Bess (1935)
If you'd have asked George Gershwin to cite his masterpiece, you probably wouldn't hear him claim the rapturous orchestral piece "Rhapsody In Blue," or the Pulitzer Prize winning Of Thee I Sing (1931) – although both are great candidates. He'd probably say Porgy And Bess, the dramatically and musically progressive folk opera set in a black ghetto. This number is sung by a drug dealer who attempts to entice Bess, a recovering addict, to leave with him for New York.
Get the sheet music here.
12. "The Most Beautiful Girl In The World" from Jumbo (1935)
Several classic numbers by the duo of Richard Rodgers and Lorenz Hart came from this circus-themed score (their first Broadway work since leaving for Hollywood in 1931), which was mounted in the famed Hippodrome. For the young romantic juvenile, who sings in reference to his lovely love interest, this number – for a nimble tenor – caught standard vogue in the decades following, despite the expensive initial production's disastrous financial losses.
Get the sheet music here.
13. "I Can't Get Started" from The Ziegfeld Follies Of 1936
When Florenz Ziegfeld Jr. died in '32, his wife Billie Burke (best remembered as Glinda) took control of the series, mounting a few more productions in the years following. 1936's edition, which was recreated several decades ago by Encores!, is one of the best – boasting a score by Vernon Duke and Ira Gershwin, and an initial roster of stars that included Fanny Brice, Eve Arden, Bob Hope, and Josephine Baker. This number was sung by a dejected Hope to a sarcastic Arden.
Get the sheet music here.
14. "A Little Skipper From Heaven Above" from Red, Hot, And Blue! (1936)
Cole Porter's second vehicle for Broadway diva Ethel Merman (their first was, obviously, 1934's Anything Goes), Red, Hot, & Blue! paired the brassy chanteuse with a charming love interest, Bob Hope, and a star comic, Jimmy Durante, whose iconic raspy voice is still imitated to this day. This number, for the latter (whose character was an ex-convict), is a classic funnyman's tale of a man who's actually a woman – and funnily enough, is "about to become a mother."
15. "Off The Record" from I'd Rather Be Right (1937)
If you thought today was the age of great political satire, let me introduce you to the '30s, whose Depression-sparked discontent gave rise to art (of all forms) that sought to critique and comment on contemporary DC follies. This show, with a score by Rodgers and Hart, was a soft-hitting farce about then-current President Franklin Delano Roosevelt, played by the famed George M. Cohan. Recreated by James Cagney in a Cohan biopic, this number has FDR speaking "off the record."
16. "God's Country" from Hooray For What! (1937)
Another satirical farce, this musical comedy with a score by Arlen and Harburg starred Ed Wynn (you remember him as Uncle Albert from Disney's Mary Poppins) as a small-town farmer who creates a poisonous gas while attempting to create a pesticide to stop worms from eating his apples. In this number, a weapons manufacturer leads the company in a patriotic cheer to the United States of America – filled with delicious allusions that proudly evoke the 1930s.
17. "By Myself" from Between The Devil (1937)
Scottish musical comedy star Jack Buchanan introduced this Dietz and Schwartz standard in a forgotten show about a widower who remarries – just before his wife returns from being lost at sea. It was the classic Enoch Arden story (enlivened on the screen several times), although in tryouts, the book originally had Buchanan's character knowingly choosing bigamy (a detail that was altered before the brief Broadway run). Included in MGM's The Band Wagon (1953).
Get the sheet music here.
18. "At Long Last Love" from You Never Know (1938)
A Cole Porter classic, this number hails from a troubled musical adaptation of the play By Candlelight, about a maid and valet who romance while masquerading as a Madame and Baron, respectively. This number, for the valet (originally played by Clifton Webb), turned out to be the underrated score's only standard – Porter's first hit following his crippling horse-riding accident in late '37. It's a quiet tune about a man who realizes, for the first time, that he's in love.
Get the sheet music here.
19. "F.D.R. Jones" from Sing Out The News (1938)
As previously mentioned, Broadway in the late '30s made significant time for political perspectives – particularly those that were left-leaning. Following Harold Rome's work in the pro-union Pins And Needles (1937), he moved uptown to work with a trio of famed producers on a more commercially driven and less radical work. The hit of this score was the jazzy "F.D.R. Jones," set at a Harlem christening for a baby boy named after the United States' then-current President.
Get the sheet music here.
20. "September Song" from Knickerbocker Holiday (1938)
For as much as the above song praised FDR, this musical (which boasted a score by German composer Kurt Weill and lyricist/book writer Maxwell Anderson) intended to do the opposite. Using the story of a 17th century New York governor as an allegory for the "big government" President, the show's hard-hitting commentary fell short when it gave the most sentimental, sincere song to the intended villain! This number, for an elderly man, is best for character study.
21. "She Could Shake Her Maracas" from Too Many Girls (1939)
Desi Arnaz, best remembered as Ricky Ricardo in the CBS sitcom I Love Lucy, introduced this spicy ditty in Rodgers & Hart's college-set romp. (Arnaz went to Hollywood in 1940 for the film adaptation – during which he met his future wife, Lucille Ball.) This number, for a Latino gent singing in reference to his Latina lover, is lighthearted and invocative of the easygoing fun that college represented for Americans in the late '30s, when Depression was giving way to War.
22. "What Have I?" from Du Barry Was A Lady (1939)
Cole Porter's raunchy Du Barry Was A Lady starred Bert Lahr as a nightclub washroom attendant who falls for a singer (Ethel Merman) and dreams that they're both in the court of France's King Louis XV – where he's the king and she's his legendary mistress, Madame Du Barry. This number, intended for Lahr in the extended dream sequence, was dropped during rehearsals. But for a chap seeking a solid, funny character number, this piece offers unique rewards.
For more information on the scores and composers of this era, visit the author's blog: jacksonupperco.com
Looking for more material? Check out our other stories below!
Top 10 Traditional Male Audition Cuts
---
Jackson Upperco is a lover of retro television, forgotten Broadway musicals, and Pre-Code Hollywood. He boasts a Bachelors Degree in Film and Television from Boston University. You can keep up with all of his entertainment interests at jacksonupperco.com.
Thumbnail image from The Gay Divorce. Public domain.