Theatre in Film: Shakespeare in Love (1998)
Written by Ashleigh Gardner
November 8, 2016
We return to Part V in our Theatre in Film series, a weekly segment of Performer Stuff's blog where we discuss a film that features a life in theatre. Part V of Theatre in Film celebrates movies from 1995 to 1999 that feature social, moral, and ethical issues within the theatre. This week, we feature the 1998, seven-time Academy Award winning film (co-written by Tom Stoppard and Marc Norman) Shakespeare in Love.
Shakespeare in Love (1998)
Director: John Madden
Starring: Joseph Fiennes, Gwyneth Paltrow, Geoffrey Rush, Colin Firth, Ben Affleck, and Judi Dench
What happens:
1593, London. Philip Henslowe (Geoffrey Rush) owns the Rose Theatre and is in tremendous debt. To escape the wrath of those he owes, he commissions William Shakespeare (Joseph Fiennes) to write him a comedy that will bring The Rose Theatre money. Unlucky for Henslowe, Shakespeare is suffering from writer's block and must find a muse to inspire him again. He finds his inspiration in Viola de Lesseps (Gwyneth Paltrow), a woman betrothed to the Lord Wessex (Colin Firth). She escapes her high-born family's castle to audition for his new play and appears as Thomas Kent, and is cast as Romeo. When Shakespeare finds out that she is Viola de Lesseps, they begin an affair that endangers Shakespeare's career, Viola's reputation, and the life of Christopher Marlowe (Rupert Everett).
On the eve of Romeo and Juliet's debut performance, it's revealed that Viola is not a man, but a woman. The theatre is shut down, and the play is cancelled. Richard Burbage (Martin Clunes) takes pity on the cast, as they are his fellow theatre folk, and invites them to perform the play at his rival theatre. Hearing of the performance, Viola escapes her wedding, and rushes to the theatre, arriving in time to play Juliet in front of a crowd of hundreds — including her new husband Wessex.
Why it matters:
Shakespeare in Love, written by Tom Stoppard (yes, the Tom Stoppard) and Marc Norman, is usually celebrated for its sweeping love story that parallels Shakespeare's Romeo and Juliet script: two people in love who are divided by social conventions. However, Shakespeare in Love warrants more credit in regards to its social commentary about gender equality.
During the years of Elizabethan theatre, women had been banned from the English stage since Medieval times. The Dark Ages were a time of vast illiteracy, and the Church needed something besides the written word to inform the populace about religion. They resorted to the "Miracle Plays", stories of the Bible that taught audiences about Christianity. These touring shows were run solely by men, and women were not allowed to participate in productions — a woman's place was in the home, and if any woman were seen doing any activity deemed un-domestic, they were considered immoral and sinful. Women and girls were played by young men and boys. It was not until 1662, when King Charles II signed a decree that all female parts were required to be played by women, that women were legally allowed to perform onstage.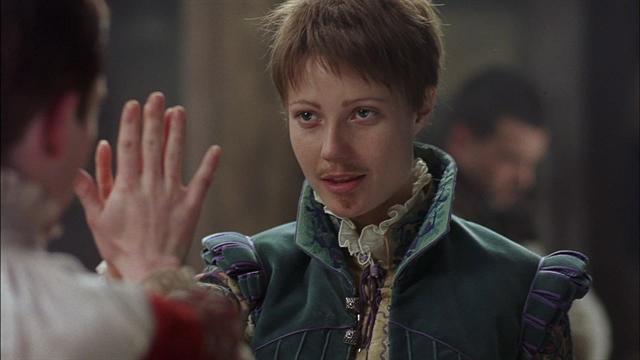 Viola is a girl who dreams of becoming something greater than her life of domesticity allows, but she is denied that dream on the basis of her gender. In addition to being restricted from becoming an actor, she is forced into an unwanted marriage with a hostile husband. These social conventions, however, place no damper on her refreshingly stubborn and driven personality. Her nurse (Imelda Staunton) also provides a trustworthy confidant despite having an obligation to Viola's conservative parents. She encourages Viola to pursue her acting dream and her relationship with Shakespeare, risking her job and reputation to do so. After Viola is outed as a woman after she'd been playing a man for so long, the company of entirely men is sad to see her go. Even the Prologue player, Wabash (Mark Williams), regrets her departure, telling her through a strong stutter, "You…were wonderful."
Shakespeare in Love uses Shakespeare's plots (Two Gentlemen of Verona, Romeo and Juliet, and Twelfth Night) to address gender inequality, plays in which women must dress as men in order to be taken seriously, trusted with important tasks, or protected from assault. As Rosalind says in As You Like It, "Alas, what danger will it be to us, / Maids as we are, to travel forth so far! / Beauty provoketh thieves sooner than gold." Women must disguise themselves as men in order to reap the basic rights that are denied them. Additionally, even when they are skilled in their profession, especially when it is a male dominated one, they are still rebuked by those who uphold the belief that women should remain at home.
As Queen Elizabeth stands onstage after the performance and addresses the players, she summons Viola forward and calls her "Master Kent", the name that gave Viola agency and power in the theatre. She sums up her admiration and understanding of Viola's hardwon performance with a statement of solidarity, implying that her struggle is Viola's struggle, too: "I do know something of a woman in a man's profession. Yes, by God, I do know about that."
This film is the third featured in Part V of "Theatre in Film". See below for the others in Part V.
Cradle Will Rock (1999) (Coming soon.)
Topsy Turvy (1999) (Coming soon.)
Want to start with Part I? Begin with 42nd Street (1933).
Miss Part II? Check out The Band Wagon (1953).
Need a refresh for Part III? Start with our feature on All That Jazz (1979).
How about a recap from Part IV? Jump into A Chorus of Disapproval (1989).
---
Ashleigh Gardner received her AA in Theatre/Drama/Dramatic Arts from Valencia College and her Bachelors Degree in English Literature and Masters Degree in Literary, Cultural, and Textual Studies from the University of Central Florida. She is a playwright, an actor, and PerformerStuff.com's Editor. 
Thumbnail image from Shakespeare in Love. Copyright © Miramax Films and Universal Pictures 1998.