Theatre in Film: An Awfully Big Adventure (1995)
Written by Ashleigh Gardner
October 19, 2016
Welcome to Part V in our Theatre in Film series, a weekly segment of Performer Stuff's blog where we discuss a film that features a life in theatre. Part V of Theatre in Film celebrates movies from 1995 to 1999 that feature social, moral, and ethical issues within the theatre. This week's film is the 1995 post-World War II theatre drama, An Awfully Big Adventure, starring Georgina Cates, Hugh Grant, and Alan Rickman. (Be advised, this film contains sexual situations.)
An Awfully Big Adventure (1995)
Director: Mike Newell
Starring: Georgina Cates, Hugh Grant, Alan Rickman, Peter Firth, Alun Armstrong, Rita Tushingham, and Alan Cox
What happens:
Sixteen-year-old awkward, naive Stella (Georgina Cates) lives with her Aunt Lily (Rita Tushingham) and Uncle Vernon (Alun Armstrong) in Liverpool after her mother abandoned her when she was a baby. In an attempt to save her from a life of droll work at a department store, Vernon places Stella in a speech class and gets her to sign up for work at a local repertory theatre headed by catty, dismissive, and attractive Meredith Potter (Hugh Grant). Meredith is wretched to everyone around him, though he has a few romantic admirers, namely Bunny, his male stage manager (Peter Firth), and Geoffrey, a stagehand (Alan Cox). He returns their admirations with name-calling, public embarrassment, and cruel rejection. However, he takes a liking to Stella, and he gives her bit parts in plays. Stella, totally unaware of homosexuality, develops a crush on Meredith (who is gay) in her social ignorance.
When P.L. O'Hara (Alan Rickman) returns to Liverpool to play Captain Hook in the theatre's production of Peter Pan, he instantly takes a liking to Stella, and she to him. Accepting his sexual advances in order to further her life experience, she develops a relationship with him and sleeps with him regularly. When P.L. finds out about her admiration for Meredith and becomes concerned, P.L. makes a visit to Uncle Vernon and Aunt Lily's flat, where he finds out that Stella's mother, also named Stella, was a woman he had slept with prior to the war — making young Stella his daughter and their relationship accidentally incestuous. In a panic, he rides his motorcycle down to the dock, slips on a wet board, hits his head on a metal beam, and drowns in the water. As Stella sits backstage ringing a bell and shining a torch to simulate Tinkerbell during the play, she overhears of P.L.'s death and weeps, never knowing (perhaps for the better) that P.L. was her father.
Why it matters:
Though incest does occur in An Awfully Big Adventure, it's not known to be such until the last five minutes. Ethics in theatre is the central focus here, without a doubt. Abuse in theatre, as unfortunate as it is, happens every day, and this film presents those situations with acute accuracy.
Hostile intimidation, the central ethical problem in An Awfully Big Adventure, exists in many forms, some more serious than others: name-calling, passive-aggressive taunting, aggressive physical contact (like pushing or punching), and sexual assault. While Stella and Geoffrey clean mirrors backstage in the theatre, Geoffrey eyes Stella's rear end, and when she gets down from the pedestal, he attempts to make her touch him inappropriately. She immediately recoils and rejects him, clearly uncomfortable. When Geoffrey later tries to make advances on Meredith (after Meredith has led Geoffrey on), Meredith rejects him by publicly calling him "Geoff-wee". Meredith has also received multiple letters from a former lover that formally sever ties between him and the other man, indicating that Meredith has engaged in abusive conduct with the other man. Meredith's most grievous offences are directed at Dawn Allenby (Carol Drinkwater), who later attempts suicide after she's publicly humiliated by Meredith. Finally, when Geoffrey has had enough of Meredith's bullying, he punches him in the face during a cast outing, knocking Meredith to the ground, nearly unconscious.
The most terrible thing about An Awfully Big Adventure is that it speaks so much truth about unethical treatment of artists by other artists. One would think that, as sensitive people, actors, technicians, and directors would treat others with the respect and compassion they may have been denied in the past, opening their arms and inviting other theatre-misfits into an environment where dreams and love may flourish among creative ideas. Unfortunately, sometimes the people artists put the most trust in hurt them the worst. Meredith takes advantage of others' respect and admiration for him. He's an abusive director, whose own ego and desire to be in control negatively affect his interactions with those who look up to and love him. In his attempt to maintain Bunny and Geoffrey's affections for him, he initiates an abusive cycle of complements and rejection. Bunny, Geoffrey, and Dawn, victims of abuse, must also endure working with Meredith day after day — they can't escape.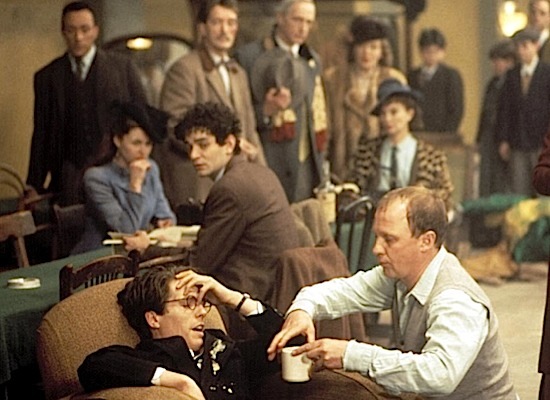 Geoffrey's reaction of punching Meredith in the face during the company football game is a brave reaction to daily terror. Meredith could have continued to embarrass Geoffrey, but he begins to leave the stagehand alone. However, this kind of situation often doesn't end as simply as Geoffrey's does. Performers have been known to experience abuse at the hands of their producers and directors on multiple occasions, not least the 2016 scandal at Profiles Theatre in Chicago.
If you experience similar abuse from artists you work with, you're not alone, and it's not okay for them to treat you that way. Tell your superior immediately, and if your superior is the offender, try the board of directors. If that fails, and if you're a member of Actors' Equity, let AE know what's going on. If you aren't, see if you can speak to a counseling center, the police, or let a friend know. Use all available avenues to protect yourself. Everyone deserves to feel safe in their home away from home.
This film is the first featured in Part V of "Theatre in Film". See below for the others in Part V.
Waiting for Guffman (1996) (Coming soon.)
Shakespeare in Love (1998) (Coming soon.)
Cradle Will Rock (1999) (Coming soon.)
Topsy Turvy (1999) (Coming soon.)
Want to start with Part I? Begin with 42nd Street (1933).
Miss Part II? Check out The Band Wagon (1953).
Need a refresh for Part III? Start with our feature on All That Jazz (1979).
How about a recap from Part IV? Jump into A Chorus of Disapproval (1989).
---
Ashleigh Gardner received her AA in Theatre/Drama/Dramatic Arts from Valencia College and her Bachelors Degree in English Literature and Masters Degree in Literary, Cultural, and Textual Studies from the University of Central Florida. She is a playwright, an actor, and PerformerStuff.com's Editor. 
Images from An Awfully Big Adventure. Copyright © Fine Line Features 1995.