Theatre in Film: Cradle Will Rock (1999)
Written by Ashleigh Gardner
November 15, 2016
We return to Part V in our Theatre in Film series, a weekly segment of Performer Stuff's blog where we discuss a film that features a life in theatre. Part V of Theatre in Film celebrates movies from 1995 to 1999 that feature social, moral, and ethical issues within the theatre. This week, we feature Cradle Will Rock, the 1999 film that addresses federal government interference in the creation of art and the operation of labor unions.
Cradle Will Rock (1999)
Director: Tim Robbins
Starring: Hank Azaria, Emily Watson, Cherry Jones, Joan Cusack, John Cusack, Cary Elwes, Bill Murray, John Turturro, and Vanessa Redgrave
What happens:
During the height of the Great Depression, numerous interconnected stories collide to tell the story of a play that was almost shut down by the government. Marc Blitzstein (Hank Azaria) is having difficulty writing his new musical, and becomes inspired by the labor riots of the era. He completes Cradle Will Rock, a play about government corruption and corporate greed. It is then picked up by the Federal Theater Project (FTP). Works Progress Administration clerk, Hazel Huffman (Joan Cusack), a staunch anti-communism and anti-union conservative secretly makes plans to bring down the FTP by holding a conference with the federal House Committee on Un-American Activities. Hallie Flanagan (Cherry Jones), the head of the FTP, is met with criticism from the federal House Committee on Un-American Activities following Hazel's public testimony, and the theatre where the play is being produced is closed. The actors' and musicians' unions won't let the artists perform either — as the unions require the original producer, the government, to give approval.
Meanwhile, rich corporate business tycoon, Nelson Rockefeller (John Cusack) has commissioned a mural to be painted by Diego Rivera (Ruben Bates) in the lobby of Rockefeller Center. Rivera and his wife Frida Kahlo (Corina Katt) fight to keep certain communist-leaning images in the painting. When Rivera refuses, Rockefeller, fires him, kicks him out, and has workers smash the wall. Rockefeller is then seen discussing culture control with fellow business tycoons, proposing that the rich should be the ones to control what kind of art is produced.
In a matter of hours, producer John Houseman (Cary Elwes) finds a theatre where Blitzstein can play his musical on piano in front of a crowd of thousands. Instead of having to sing the entire musical himself at the piano, the cast stands up and performs in the house in protest of the government's shutdown of the show.
Fun fact: The Cradle Will Rock is a real musical.
Why it matters:
Cradle Will Rock is definitely a political film, but it isn't something to shy away from because it might sound boring or too complicated. Think of it as having the tone of a Woody Allen movie and the gravitas of subject of Nixon's Watergate scandal. Director Tim Robbins relates the devastating effects corrupt government and greedy corporations have with an absurdist, sometimes silly, air. The music in the film is either upbeat swing-dance numbers or the showtunes from Blitzstein's musical. That's probably a nice way to get audience to watch the film. However, the deeper meaning is much, much more terrifying.
Can you imagine what it would be like to have the art you produce controlled by the government and large corporations? Hallie Flanagan's troubles begin when Hazel Huffman, a person with absolutely no experience in the theatre, develops a vendetta against the FTP based on preconceived notions about and prejudices against the theatre community. She testifies to the House Committee on Un-American Activities that the theatre community is full of communists and, what's more, that plays put on by the FTC are full of communist and immoral rhetoric. A paranoid and biased government panel then indicts Flanagan and her management of the FTP, threatening the cancellation of all federal theatre in the country. Throughout the film, the theatre staff as well as Diego Rivera and Frida Kahlo are heard making comments against the fascist government of Italy (then led by fascist dictator Benito Mussolini who was also an ally of Adolph Hitler). In attempting to control the art that was coming out of American theatres and artists, the government and large corporations drifted dangerously into the territory of fascism, a political ideology they would later, in World War II, decry as undemocratic.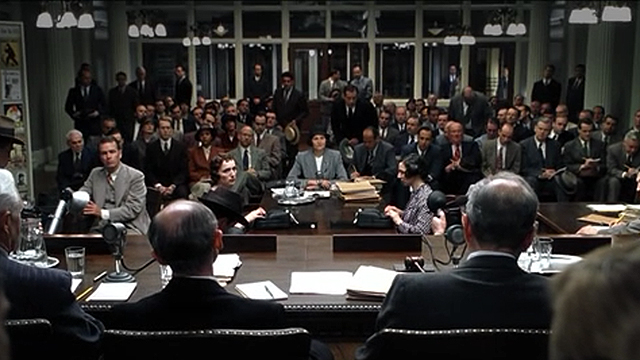 The House Committee on Un-American Activities feared a revolt by the populace incited by artists and writers — the ones who have undoubtedly incited revolution throughout history, whether purposefully or accidentally. Though their fear may have been somewhat justified — an overthrow of government is not a thing to take lightly — their mishandling, paranoia, and naivety shut down a federal operation that, first, cost thousands of people their jobs and, second, cost the nation a growing, multicultural theatre community.
To have art controlled by the elite is the other concern Cradle Will Rock addresses. Nelson Rockefeller presents the idea that art and culture should be controlled by the upper class (what we now call the 1% in America) in order to control political thought. If artists are allowed to rise up and address political ideologies and social order, the business interests of corporations and government (with whom corporations often converse) may suffer as a result. However, freedom of speech and expression of diverse ideas also gains traction, an advantage and a necessity in a democracy.
Ultimately, the lesson audiences can take away from this film is simple, yet loaded with potential: government, corporations, and special interests may always be present, but, as Hallie Flanagan's FTP staff would say, "We're not painting pretty pictures with our plays. It must scare the hell out of them." "Well, the plays are written. They're here forever."
Below is a clip from the film that shows the testimony from Flanagan as she is being questioned by the House Committee on Un-American Activities. The lines here are from the hearing in 1938.
This film is the fourth featured in Part V of "Theatre in Film". See below for the others in Part V.
Topsy Turvy (1999) (Coming soon.)
Want to start with Part I? Begin with 42nd Street (1933).
Miss Part II? Check out The Band Wagon (1953).
Need a refresh for Part III? Start with our feature on All That Jazz (1979).
How about a recap from Part IV? Jump into A Chorus of Disapproval (1989).
---
Ashleigh Gardner received her AA in Theatre/Drama/Dramatic Arts from Valencia College and her Bachelors Degree in English Literature and Masters Degree in Literary, Cultural, and Textual Studies from the University of Central Florida. She is a playwright, an actor, and PerformerStuff.com's Editor. 
Thumbnail image from Cradle Will Rock. Copyright © Buena Vista Pictures, 1999.