Theatre in Film: Vanya on 42nd Street (1994)
Written by Ashleigh Gardner
date
Welcome to Part IV in Performer Stuff's Theatre in Film series. In this installment, we feature films from 1989 to 1995 that focus on interpersonal relationships within theatre — the love, the complications, and the comedy that inevitably occur when actors, directors, playwrights, and technicians share the same space for extended periods of time. We continue Part IV with the 1994 filmed performance of Andre Gregory's production of David Mamet's Uncle Vanya adaptation of Chekhov's 1897 play: Vanya on 42nd Street.
Vanya on 42nd Street (1994)
Director: Louis Malle
Starring: Wallace Shawn, Julianne Moore, Phoebe Brand, Lynn Cohen, Brooke Smith, Larry Pine, Jerry Mayer, George Gaynes, and André Gregory
What happens:
Imagine if you and your friends got together every Friday night to do casual staged readings of your favorite play. In these gatherings, you could explore every motivation, desire, action, and emotion of your characters without judgement or rigid direction. You would be free to create without limits. Vanya on 42nd Street is the result of a real life theatrical experiment you might find in any dining room, living room, or black box theatre across the world. In essence, the film is a directed documentary of the rehearsal process, filming the entire length of one rehearsal performance of Uncle Vanya.
The movie opens with the actors, all playing themselves, walking to rehearsal at the New Amsterdam Theater on 42nd Street in New York City. Wallace Shawn and André Gregory show Shawn's friends to the theatre. As they introduce the couple to the building, they explain small details that make the theatre unique: the faces on pillars are from Shakespeare's plays, there is no fly system because the rats have chewed through the ropes, it rains during rehearsals so the ceiling leaks, and there are sheets of canvas hung above the stage because the decaying plaster falls occasionally. They're squatting in the space, as it's been abandoned for years. As the actors get ready for their invited rehearsal, the audience prepares for, quite possibly, one of the most interesting theatrical experiences they've ever known.
The play's rehearsal begins without warning, and the only reason we (as the film's viewers) know it's started is because we see the small audience in attendance listening with rapt attention. Over the course of two hours, the actors perform the play they have been rehearsing for five years. Occasionally, André interrupts the rehearsal to lead the audience into other rooms where the following scenes are being performed. The production uses the technique of immersive theatre in order to completely surround the audience and the actors in the world of the story. Additionally, upon the play's conclusion, we do not see the audience applaud. Instead, the production ends with a shot of the actors, leaving us wondering if the characters have moved on from their plight and if the actors ever gave a fully produced performance to compensate for their perpetual rehearsals.
Why it matters:
In case you aren't familiar with Chekhov's 1897 play, Uncle Vanya, here's a brief summary: An elderly professor and his young second wife, Yeléna, visit the farming estate that helps them maintain their city life. While there, two friends, Vanya (the brother of the Professor's late first wife) and Astrov (a country doctor) fall in love with Yeléna. Sonya, the Professor's daughter by his first wife (and Yeléna's step-daughter), is meanwhile preoccupied with trying to maintain the estate with Vanya, all while bemoaning her unattractiveness in the face of passive rejection from Astrov. When the Professor announces he wants to sell the estate, Vanya and Sonya become enraged, and the play ends with the Professor and Yeléna leaving Vanya and Sonya to maintain the estate until its sale.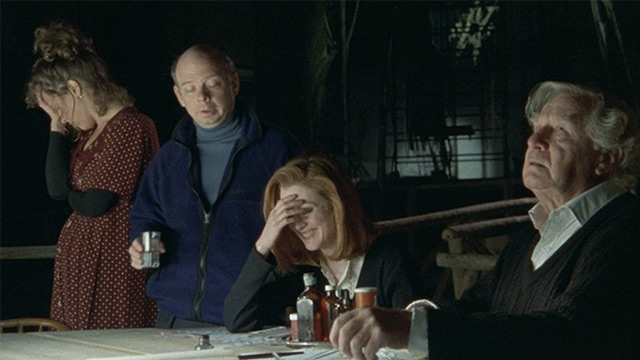 Videographer Louis Malle, writer and director André Gregory, and actor Wallace Shawn, who had collaborated in the past on My Dinner with André (1981), gathered together a number of other actors to read through David Mamet's translation and adaptation of Anton Chekhov's Uncle Vanya. Over a period of five years, beginning in 1989, the small experimental troupe met as their professional schedules allowed to read through, act out, explore, and rehearse the play, focusing on Mamet's language and Chekhov's story. And though the troupe never planned to have an audience, they started inviting small groups of close friends and family toward the end of their rehearsals. Gregory asked Malle if he would want to film a rehearsal, to document one before the production had to end. Malle said yes.
In terms of the film's production goals, it's brilliant in its execution. In 1899, when Uncle Vanya was originally produced in Russia, Stanislavski and Chekhov hated the extravagance and star-centric plays that showcased only a story's surface. The pair instead focused on ensemble pieces that called attention to the dynamic relationships between characters and their deep-seated fears, hopes, and failures. Vanya on 42nd Street does incredible justice to Chekhov and Stanislavski's dreams for their productions: the bare-bones rehearsal/production takes place in an abandoned, decrepit theatre with minimal set dressings, props, costumes (all actors wore street clothes of the early 1990s), and no sound. Though these choices may or may not have been intentional, they certainly help draw focus to Mamet and Chekhov's language and story, allowing the rehearsal's audience to become immersed in the realism of the conflict.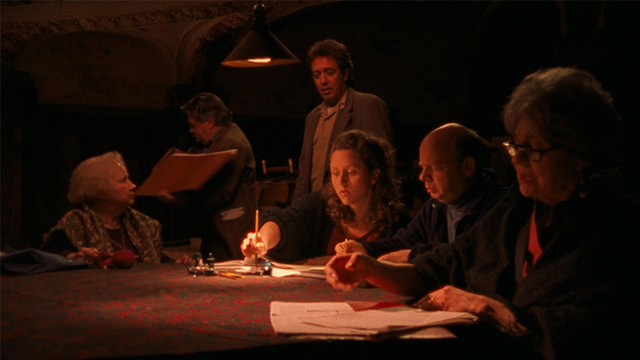 One of the most wonderful aspects of Vanya on 42nd Street is its message of "anywhere theatre" or "pirate theatre" (as I personally call it). Oftentimes, members of the theatre community are so discouraged by lack of money, time, and resources that dedication is sometimes forgotten in the face of overwhelming hopelessness: where do we rehearse and perform? how do we pay for such an event? who is available for such a risky venture? These answers are sometimes difficult to answer, but the real question is, "When do we start?"  The answer is, "Now."
In the case of Gregory and Shawn, they began with a reading, and over a course of five years, they grew their experimental production and found new venues to host their interpretation of Chekhov. The result of this kind of dedication to a free, creative, collaborative exploration is nothing short of inspirational.
This film is the first featured in Part IV of "Theatre in Film". See below for the others in Part IV.
Bullets Over Broadway (1994) (Coming soon.)
A Midwinter's Tale (In the Bleak Midwinter) (1995) (Coming soon.)
Want to start with Part I? Begin with 42nd Street (1933).
Miss Part II? Check out The Band Wagon (1953).
Need a refresh for Part III? Start with our feature on All That Jazz (1979).
---
Ashleigh Gardner received her AA in Theatre/Drama/Dramatic Arts from Valencia College and her Bachelors Degree in English Literature and Masters Degree in Literary, Cultural, and Textual Studies from the University of Central Florida. She is a playwright, an actor, and PerformerStuff.com's Editor. 
Thumbnail and all content images from Vanya on 42nd Street. Copyright © Sony Pictures Classics 1994.