The Island of Misfit Plays: Too Much Light Makes the Baby Go Blind (1988)
Written by Clark Levi
February 2, 2017
Welcome back to The Island of Misfit Plays, where forgotten plays and musicals are rediscovered and forgotten no more. Broadway flops and vanished greats, plays you might not have heard of, abandoned projects — you name it! It'll be covered.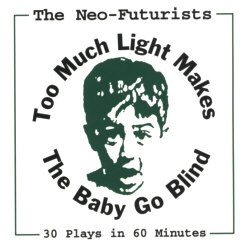 On December 2nd, 1988, a revolutionary new show opened in Chicago.
Actually, that statement vastly underplays the situation. A completely out-of-left-field, highly creative, funny, dramatic, political, autobiographical, raunchy, esoteric, WEIRD mash of theatre (you can see how weird below) sprung into the scene. It established a cult following over the next 29 years, and its popularity is still growing.
Going back before that opening night, a man named Greg Allen convinced eight other theatre artists to join him in exploring his theory of "neo-futurism": a mix of Dada, Brecht, Italian Futurism (without the fascism), and a million other influences.
The idea behind the show Allen created was simple: The ensemble writes 30 short plays for the 60 minute show, with a focus on the real lives and thoughts of the performers, nothing fake and nothing traditional. Audience members pay $9 plus the roll of a six-sided die, and are asked for their name by headphone-wearing ensemble members. After they're given a nametag with whatever the ensemble hears (I was "Green Monster" when I went), the audience are all handed play menus that have all 30 titles on them. These menus line up with the 30 pieces of paper hung on a clothesline above the stage (seen below).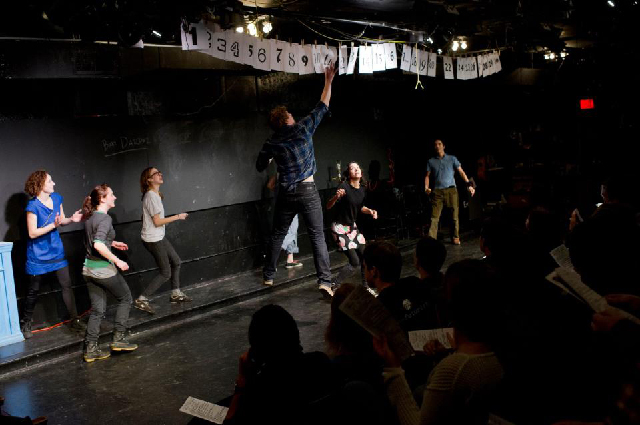 The show is introduced, the onstage timer for 60 minutes is set, the audience calls out what number play they want, it's pulled down, performed, and the process repeats in this random cycle until all 30 plays are performed or the timer runs out (and yes, the latter does happen, the sad honesty bitterly reflecting the sad honesty of life…if you wanna get pretentious). If the show sells out (which happens very often), pizza is ordered for the entire audience. At the end of every show, two six-sided die are rolled to see how many new plays will be written by the ensemble for next week's shows.
Ok, so maybe the idea isn't "simple", but it is extremely enduring. TML (what the cool kids call it) played in Chicago for 29 years with an ever changing ensemble and over 9,750 plays written. It has expanded to shows in New York and LA that are still running today. Here's one of my personal favorites from New York (created by/starring Seriously.TV activist Dylan Marron)
And the show's still going! Greg Allen closed the show in Chicago to reformat the production to include a new, more diverse ensemble. The Neo-futurists left behind continue Allen's project with "These 30 Plays" as well as other shows.
My suggestion: Most definitely see this show if you get a chance. It is the most one-of-a-kind experience. I'll leave you with one of the most beautiful plays they've created.
See you next time on the island!
---
Clark Levi is an aspiring director/actor/playwright/jack of all trades that lives in Orlando, Florida. He has performed and directed with Beth Marshall Presents, Baggy Pants Theatre, and The Young Company, among others. He is an officer and for Boone High School Theatre and a proud Thespian, and is currently working as an intern under Beth Marshall. 
Thumbnail photo from YouTube video featuring The Neo-Futurists in "Too Much Light Makes the Baby Go Blind" at Woolly Mammoth.